Sauteed Vegetables With Pepper | Healthy Recipe
Hi Girls,
Ate too much on Diwali, as you can't resist tempting foods and sweets and end up piling kilos. Its time to post – Diwali detox, so here I come up with a  low calorie recipe which is as light and healthy as boiled vegetables but not tasteless, and help you detox and loose.
Sauté vegetables with black pepper can be eaten as a snack or as a main course  with chapaati. This recipe has half cooked vegetables with black pepper and milk, and avoided oil and spices . This recipe needs just 15 minutes to prepare and digests easily.
Sauteed Vegetables With Pepper | Healthy Recipe
Nothing can go wrong with this simple and nutritious recipe- vegetables and  paneer cubes have a classic, uncluttered taste lifted by just a touch of black pepper.
Recipe Goes Here..
Serves:2,
Cal/Ser: 45
Ingredients
1/2 Tomato- cut into thin fingers6-7 French beans- cut into 2″ peices1 carrot- cut into round slices2 mushrooms- cut into half1/2 cup cubed cabbage (cut into 1″ pieces)1 onion- sliced1 Capsicum- cut into thin fingers1 Tbsp grated ginger1 Tsp saltBlack pepper to taste25gms paneer cubes4 Tbsp milk
Topping:
Coriander leaves, 5-6 peppercorns- crushed coarsely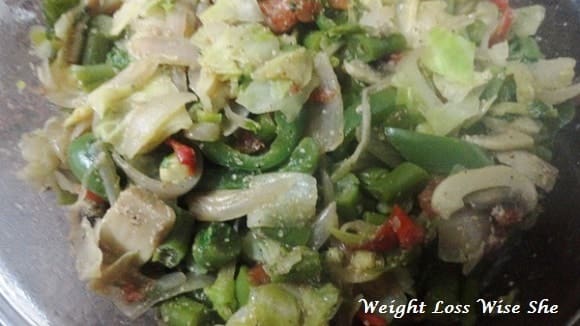 Method To prepare:
Boil 2 cups water with 3/4 Tsp salt and 1/2 Tsp sugar. Add carrots, beans, mushrooms and boil for just 1-2 minutes or till crisp tender. Refresh in cold water and keep aside.Heat a kadhai and add cabbage , onions and ginger. Stir for 3-4 minutes till onion turns light brown.Add beans, carrots and mushrooms, capsicum. Stir for 2 minutes.Add salt and pepper. Lower heat, add tomatoes and cook for 2 minutes.Add paneer and milk. Remove from fire. Serve sprinkled with freshly crushed pepper and coriander.Enjoy this nutritious and delicious recipe  either to control hunger pangs or in lunch or dinner with chapaati.
You may also like reading –
Heathy Diet Chaat Recipe For Weight LossHow To Maintain Weight During FestivalsHealthy Dinner Options For Weight LossParineeti Chopra From Fat To FitHealthy Corn Salad RecipeWhy Brown Rice Is Better Than White Rice10 Health Benefits Of PapayaHealth Benefits Of Drinking Warm Lemon Water Every Morning11 Health Benefits of BroccoliBest Workout Music – 90s Bollywood Edition
By: Ruchi
Title: Sauteed Vegetables With Pepper | Healthy Recipe
Sourced From: www.fitnessvsweightloss.com/sauteed-vegetables-with-pepper-healthy-recipe/
Published Date: Sat, 13 Feb 2021 06:03:30 +0000